At the Slovenian Forestry Institute, Department of Forest Technique and Economics, we successfully completed the main part of the field trials in February, which included time studies and ergonomic measurements of work. Slovenian field trials in numbers: 2 locations, 3 stand types, 35 study plots, 2 work techniques, 11 full time-study days, 2 demonstrations.
The data captured in the field and its further analysis will evaluate the productivity and cost-effectiveness of the technology, ergonomic workplace indicators and assess damage to the soil and trees after the timber harvest has been completed.
Field measurements were carried out in Slovenia (Kočevje) in January and February this year. Measurements were carried out to check the feasibility and applicability of machine felling in the case of thinning in Slovenia. The felling head was used in three different types of stands (younger small diameter beech stands (SDS), younger SDS spruce and younger SDS in abandoned farmland composed of mostly hazel and birch). Same as previously in Sweden and Finland, the harvester (Komatsu 901.4) and operator were the same, the operator selected trees for felling and we followed the same work protocols.
The course of events was roughly as follows: finding and choosing appropriate stands, study plot marking, pre-inventory and innovative SDS thinning (Komatsu-Bracke).
Things, that have yet to be done:
– post-inventory for innovative SDS thinning, forwarding, post-forwarding inventory,
– study plot marking for conventional thinning (chainsaw), pre-inventory, thinning, post-inventory; we expect that to take place in the fall.
Preparations and the search for suitable study stands began as early as November. We have found suitable stands with the help of Slovenian Forest Service and Slovenian State Forests firm in the young forests of Kočevje, in southeastern Slovenia.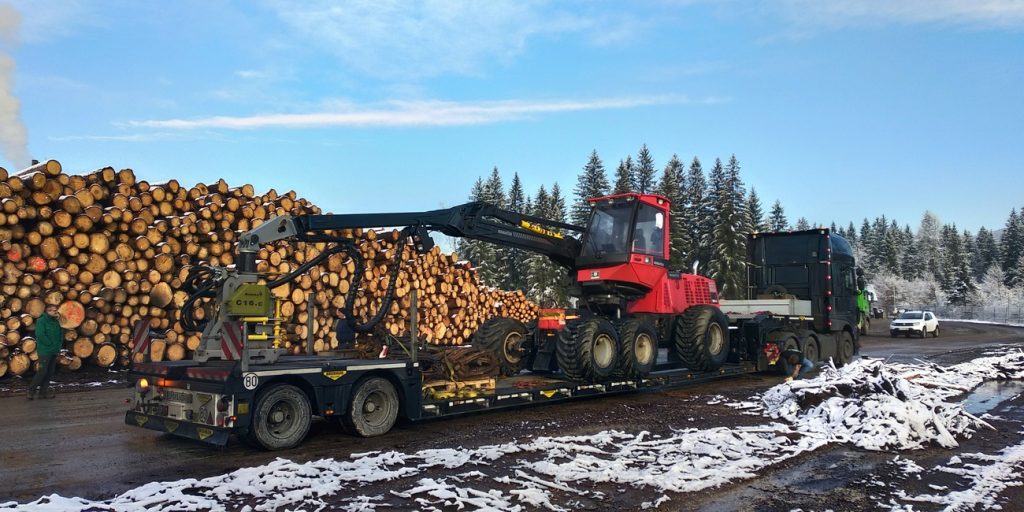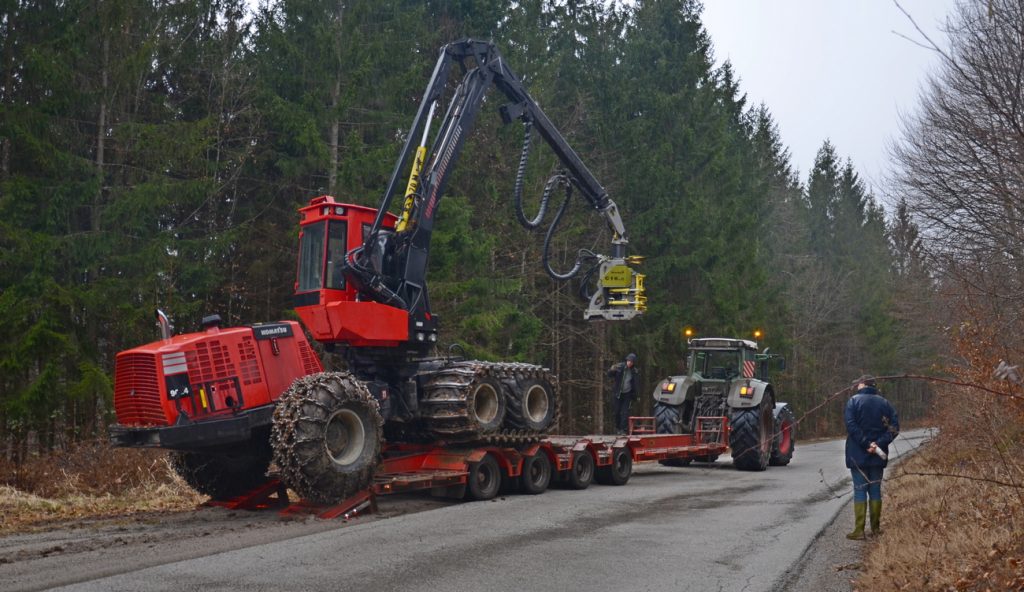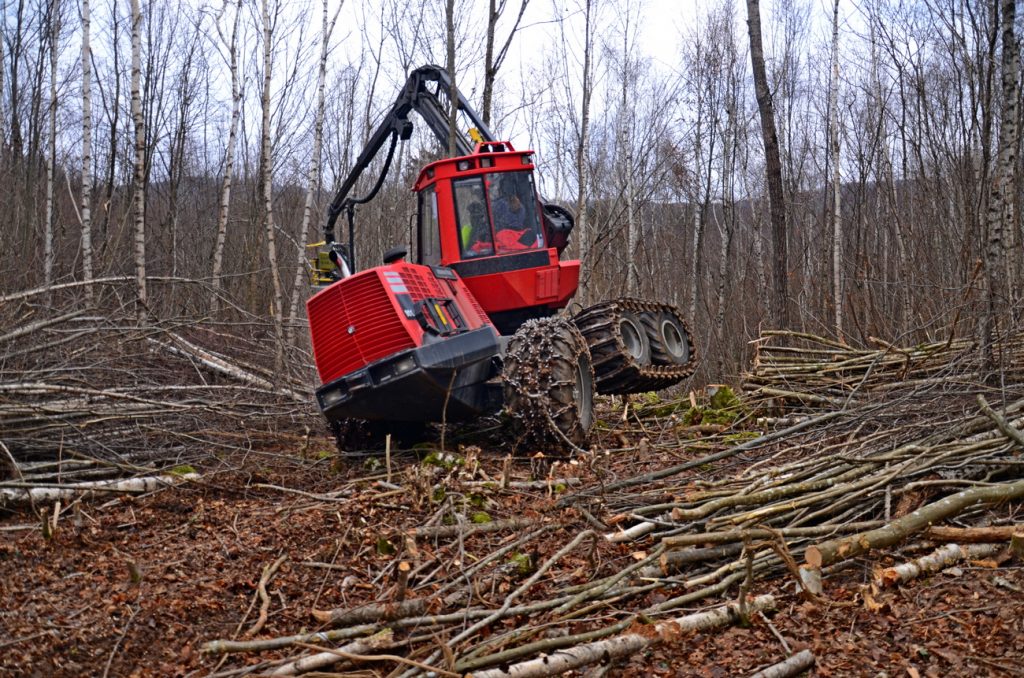 The study plots were almost all 20 m x 50 m in size, some shorter due to terrain or other obstacles. All plots were marked on site, GPS locations of transect centres were recorded, pre-inventories were performed on two transects for each plot, stand conditions were observed, we sampled dead biomass inside and on top of forest floor and sampled main trees species for dbh/h curve in each stand. The technique of work on the study plot (selective / boom) was chosen at random.
During the field trials we also organized a training day for Slovenian operators and a demonstration day for professional public and project partners. Since most of the first location was done, participants were able to see the results of thinning on many study plots. Immediately after the demo day, the machine was transported without help from a trailer, and continued working at the second location the next day. During the thinning, we had taken notes of fuel consumption for each plot via harvester display and performed time studies and measured ergonomic indicators (heart rate, whole body vibration, noise). At least one of the Swedish colleagues from SLU (Christian Höök, Raul Fernandez Lacruz and Tomas Nordfjell) was present during the thinning (20. 1. 2020 to 5. 2. 2020) for purposes of translating and assisting with the experiment. On 4th February we successfully completed innovative SDS thinning.
During the 11 days of field trials, the combination of Komatsu 901.4 and Bracke C16.c felling head proved to be very reliable, apart from two broken hydraulic hoses due to external damage.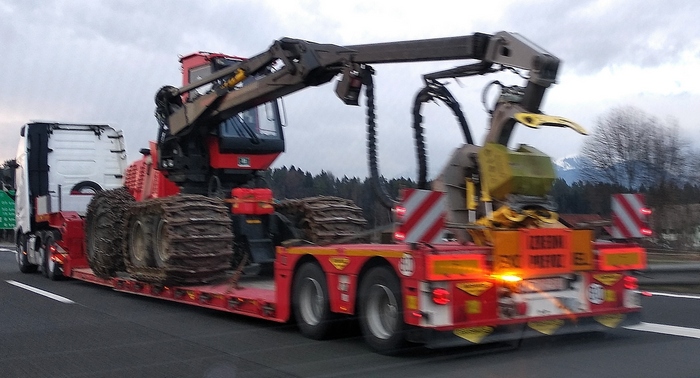 In next 20 years we can expect vast areas in Slovenia consisting of beech small diameter stands that will need thinning. Therefore, it is also in interest of state forest managers to find more effective ways of securing forest tending.
The entire Department for Forest Technique and Economics was involved in field work which proved to be a unique experience as well as good teambuilding.
The Smallwood (Small Diameter Wood Utilization with Innovative Stand Management for Multifunctional Forests and Growing Sustainable Bio-economy) project was funded under the ERA-Net ForestValue programme. We worked with the Slovenian State Forests firm and the Slovenian Forest Service to plan activities and carry out the works and we thank them for their constructive cooperation. Ergonomic measurements were conducted only in Slovenia, and we thank the harvester operator Kjell Thörnqvist for the permission.
Urban Žitko, Tina Jemec, Matevž Triplat, Mirko Baša, dr. Nike Krajnc